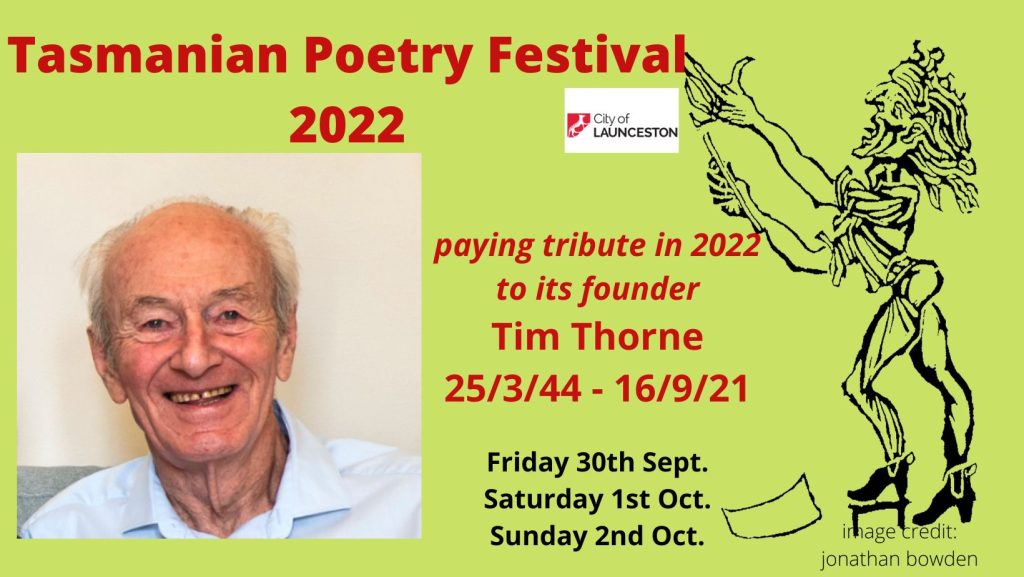 Remembering Tim Thorne
The Tasmanian Poetry Festival was founded by Tim Thorne, a remarkable poet and person. With his wife Stephanie, Tim organised the Tasmanian Poetry Festival over several decades, and it remains the only annual Festival in Tasmania devoted entirely to poetry. Tim's intelligence, wit, networking skills and affability contributed mightily to its continued success.
Tim died on the 6th of September 2021, and Stephanie followed soon afterwards, on the 19th of October 2021. This year's Tasmanian Poetry Festival, 2022, pays tribute to Tim and Stephanie.
Festival Events 2022
Downloadable PDF of Full Programme
Friday 30th September to Sunday 2nd October
Get your Festival Pass!
The Festival Pass covers all of the above events.
Downloadable PDF of Full Programme – get it here!
Other Tas Poetry Festival Events
A number of additional events are taking place in association with the TPF22.
Please note that (where tickets are required) these events are not included in the Festival Pass (above).
Festival Key: Ticket links, dates, times, locations
Below are direct links to Trybooking for tickets for each and every event that is part of the Tasmanian Poetry Festival 2022.
Click here for downloadable PDF of full Programme
Saturday Sept. 10th
Saturday Sept. 17th
Poetry in the Pub: 3-6pm (no tickets required)- Imperial Hotel, Branxholm
Sunday Sept. 25th
Friday Sept. 30th
Saturday Oct. 1st – All events at Invermay Bowls Club, cnr. Invermay Rd and Forster St, Invermay
Sunday Oct. 2nd – All events at Best Western Motel, 3 Earl Street, Launceston