Yes, there's more! Don't miss anything – scroll down to find everything that's on, near and far.
But first, a matter of great importance: the Tasmanian Poetry Festival was founded by Tim Thorne, a remarkable poet and person.
Remembering Tim Thorne
Tim Thorne was deeply committed to social equality and to protection of the environment. He was a talented linguist, ardent supporter of the Richmond Football Club, much published as a poet over many years, a publisher of the work of others and recognised around the world as a leading writer. He was certainly Tasmania's leading and most visible poet during the last forty years.
Above all, Tim Thorne was egalitarian and friendly, encouraging all in their writing endeavours. He leaves an astonishing legacy of published work and great sorrow at his passing among friends and fellow poets around the world.
With his wife Stephanie, Tim organised the Tasmanian Poetry Festival over several decades, and it remains the only annual Festival in Tasmania devoted entirely to poetry. Tim's intelligence, wit, networking skills and affability contributed mightily to its continued success.
Tim died on the 6th of September 2021, and Stephanie followed soon afterwards, on the 19th of October 2021. We pay tribute to both. They are sorely missed and remain much loved.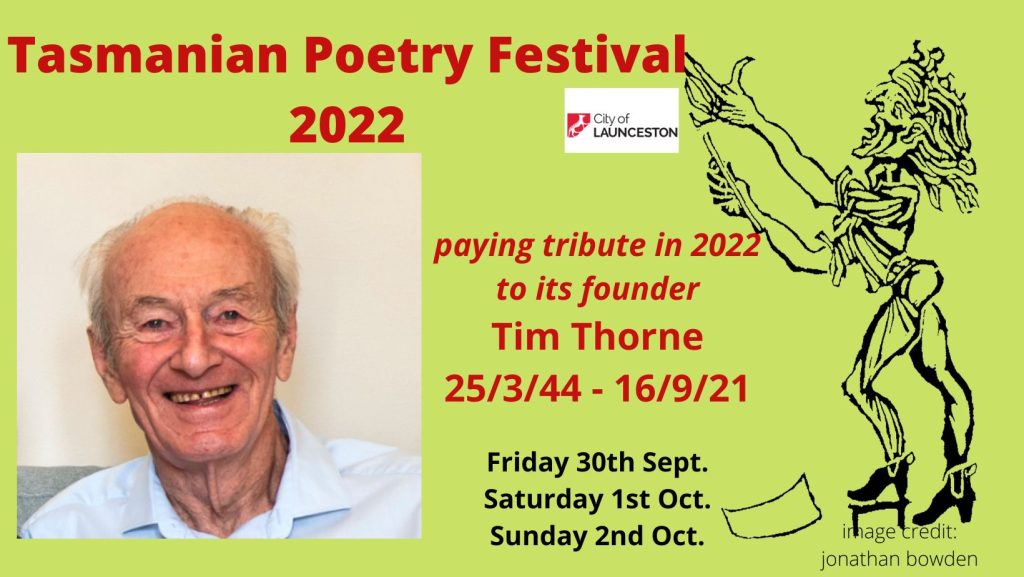 Other Tas Poetry Festival Events
Core Festival Events
Get your Festival Pass!
Festival Programme and Guest Profiles