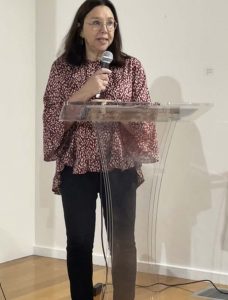 Helga is an English-Estonian poet, now living on lutruwita-Tasmania's northwest coast. Although living in a small village close to farmland and beaches, she also regularly spends time in Melbourne, thus enjoying both rural and city opportunities to explore writing.
Poems have been widely published in respected literary journals and anthologies. Her writing has been shortlisted in the Overland Judith Wright poetry prize for emerging poets, shortlisted in the UK Bridport Prize poetry and flash fiction categories, and longlisted in the UK National Poetry prize.
Helga likes to focus on identity and place in her poems; self, family and community interrelationship, migration, travel, art, and the natural world. Recent books, Firebird Baltic Blue and Little Bones in Red Clay, are available from Ginninderra Press.
Hear Helga at the Festival during the guest poet sessions on Saturday morning and Sunday afternoon.