Tasmanian Poetry Festival 2021: What's On
Tasmanian Poetry Festival 2021: What's On
Amazing guests!
We have a wonderful line-up of guests this year in 2021. Stay tuned for more bios, photos and links.
Fabulous new books!
There will be launches of new books by Joy Elizabeth, Jane Williams, Nancy Corbett and Kristen Lang. You can find all the details here. Come along to hear their poetry and all about their books, and get yours signed.
Stay tuned and find tix:
All events are on Tasmanian Poetry Festival's facebook page as well as here, on this site.
Links for individual event tickets (through Trybooking) can be found below, and on our Facebook posts. Don't forget about our great value Festival Pass.
THE TIMES THEY ARE A-CHANGIN'
March 19th (Friday), 2021, from 7pm
To kick-off the 2021 Festival, a fabulous tribute concert celebrating the poetry of renowned singer/songwriters, Bob Dylan and Joan Baez.
Booking link for The Times They Are A-Changin': https://www.trybooking.com/BOYTT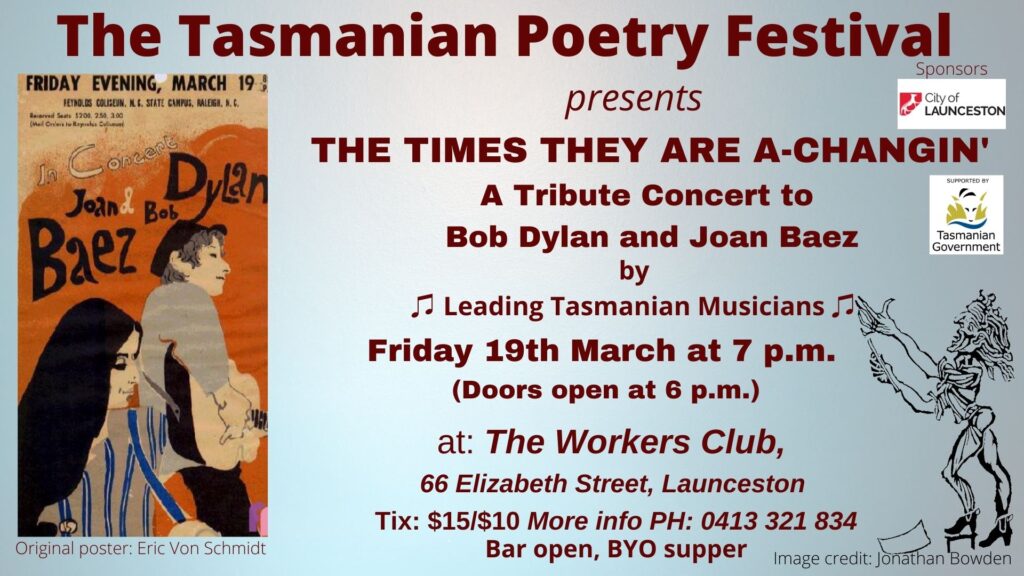 THE ARTIST'S PALATE
March 21st (Sunday), 2021, from 11am
A moveable feast beginning at Interweave and meandering to mystery locations. Bus transfer is included.
Booking link for "THE ARTIST'S PALATE" https://www.trybooking.com/BPNXW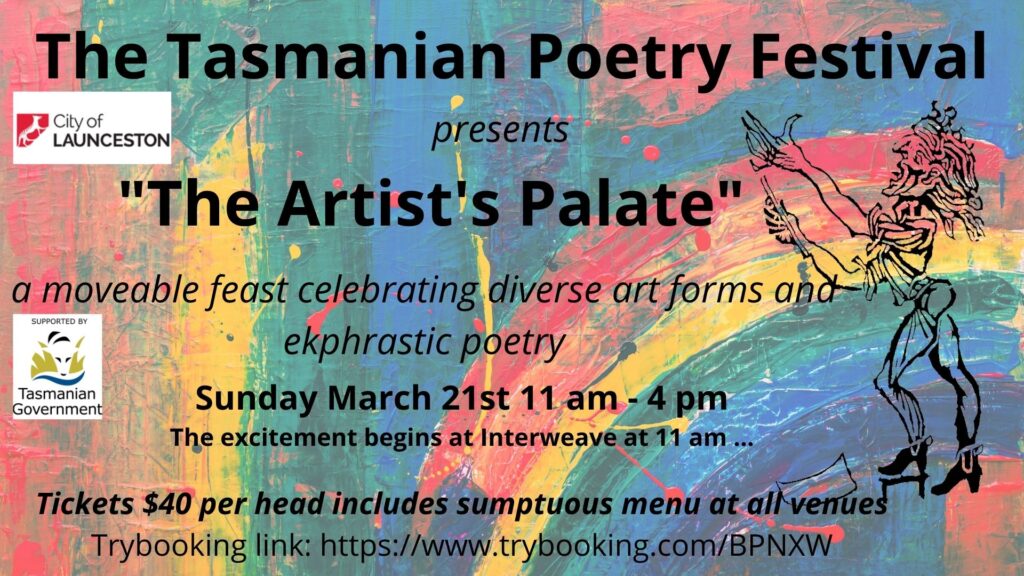 THREE POETS – DAVID MASON, BRIELLE QUIGLEY & TIM SLADE
March 22nd (Monday), 2021, 7pm for 7.30 start
Guest poets DAVID MASON, BRIELLE QUIGLEY and TIM SLADE.
IMPORTANT ANNOUNCEMENT
CHANGE OF VENUE
Dear Poetry Lovers ,
Due to unforeseen circumstances, our venue for Monday night's pre-festival event with poets, David Mason, Brielle Quigley and Tim Slade has changed to the following:
THE BEN LOMOND ROOM 1st FLOOR (and through the Tram Bar Restaurant)
BEST WESTERN PLUS HOTEL
3 Earl Street, Launceston.
(Lift is available to first floor)
Please join us there for a night of wonderful poetry.
Trybooking link: https://www.trybooking.com/BORQO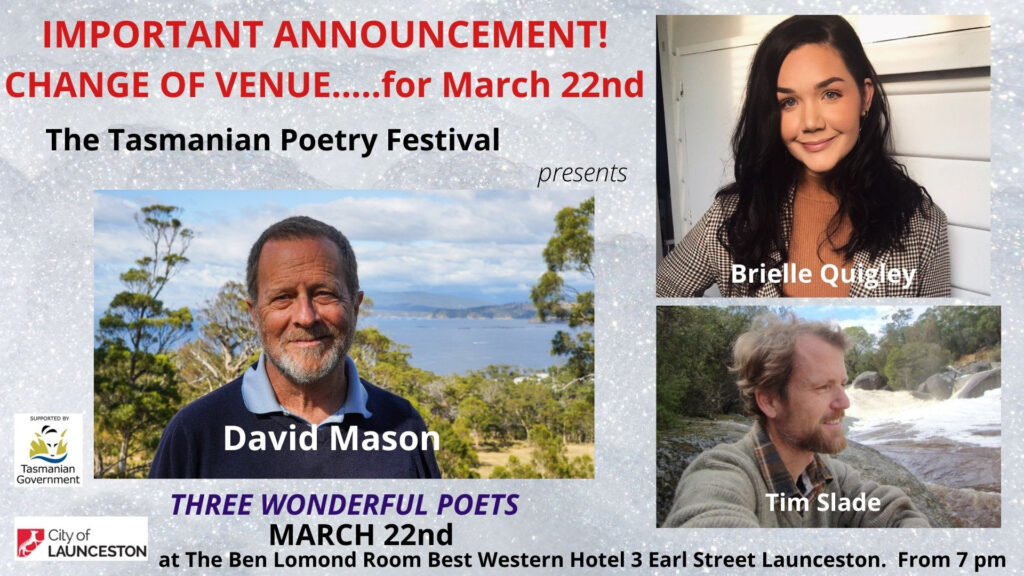 FRIDAY FUN AT THE FESTIVAL
March 26th (Friday), 2021, 7.30pm (book launch 6.30)
Joy Elizabeth's Fragile Friday will be launched by Nancy Corbett at 6.30, followed by Australian comedy legend Rachel Berger and guest poets.
RACHEL BERGER is one of Australia's most highly regarded, adept, and adaptive comedic talents working variously as a comedian, broadcaster, novelist, columnist, agitator and television entertainer. She is a woman of remarkably diversified talents. In addition to playing the Xylophone and carving avocado pips into small Buddhas, she's recently stopped feeling guilty. There are no cows too sacred for this Berger.
ATTENDEES PLEASE NOTE: We will be shutting the doors and starting this event at 7.30 pm sharp. To minimise disruptions we will not have Tram Bar dining room service in the Ben Lomond Room during the show, so if you intend to eat – please do so in the restaurant, which will be serving dinner from 5 pm onwards. We would like you to be in your seat at 7.30, with any drinks you wish to bring with you. There will be an interval for purchase of refreshments from the bar. Doors will be shut at 7.30 and there will be no incoming or outgoing of traffic until interval. We thank you for your co-operation!
Trybooking link:-https://www.trybooking.com/BOUWB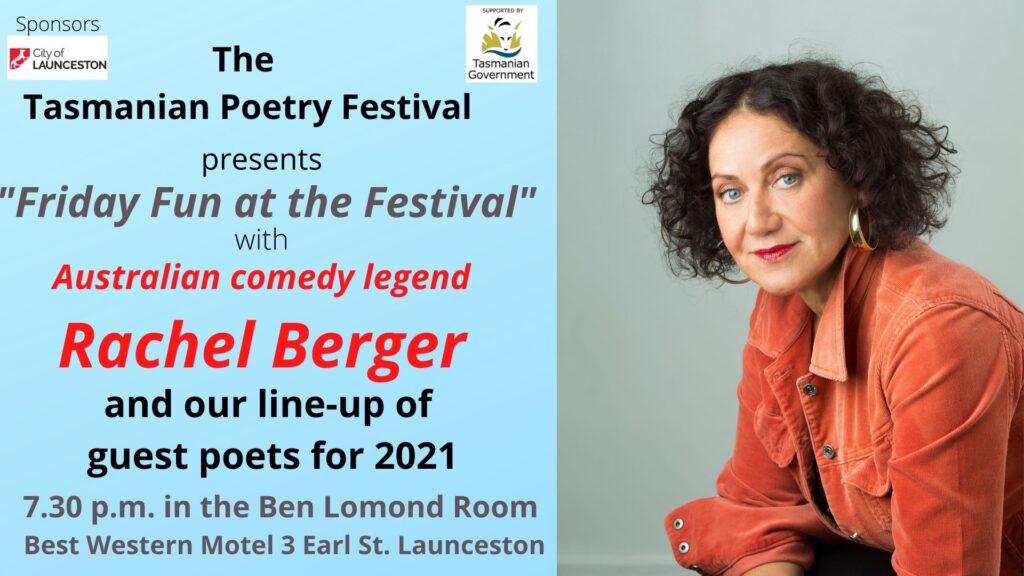 SATURDAY SESSION
March 27th (Saturday), 2021, from 11am
IMPORTANT ANNOUNCEMENT:–
Due to unforeseen circumstances, our venue has changed for this Saturday, 27th March to The Ben Lomond Room (1st floor through the Tram Bar) at Best Western Plus, 3 Earl Street, Launceston.
You will hear from our guest poets – Susan Austin, Geoffrey Miller, Kim Nolan, Rebecca Young and Joy Elizabeth. There will also be open mic readings, and, at 2 pm, the launch of Jane Williams' Points of Recognition. And, there's more… for the incredible price of just $12/$10 for tickets, lunch platters will be served.
Trybooking link:https://www.trybooking.com/BOVXW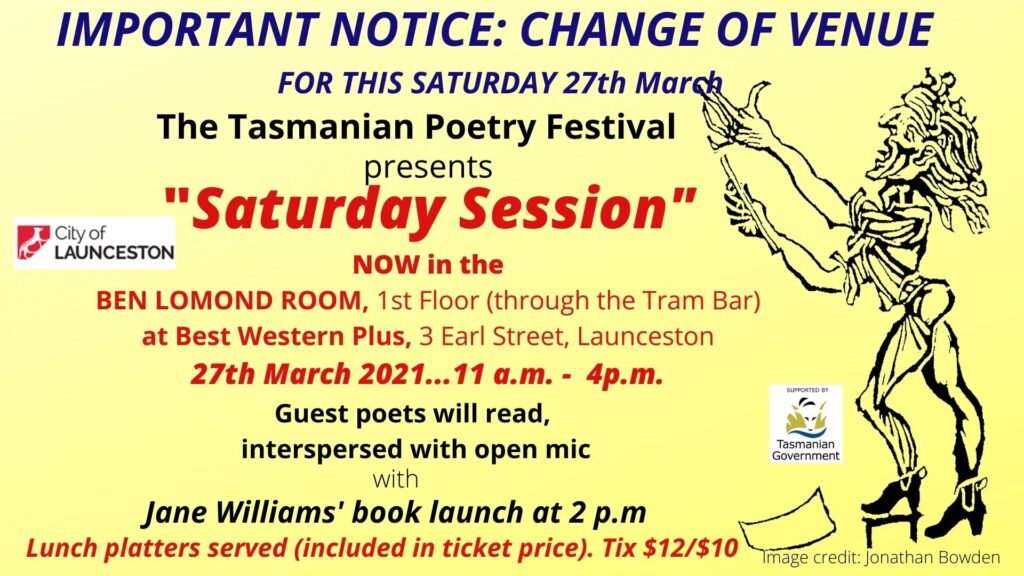 THE LAUNCESTON POETRY CUP
March 27th (Saturday evening), 2021, from 6.30pm

The ICONIC, never-to-be-missed Launceston Poetry Cup! Fast and furious – poems must be read or delivered in one minute or under or they will be disqualified. Includes a book launch, of Nancy Corbett's The Longest Conversation.
Sign up from 6.30 pm. Bar open, BYO picnic tea.
Booking link:https://www.trybooking.com/BOVYV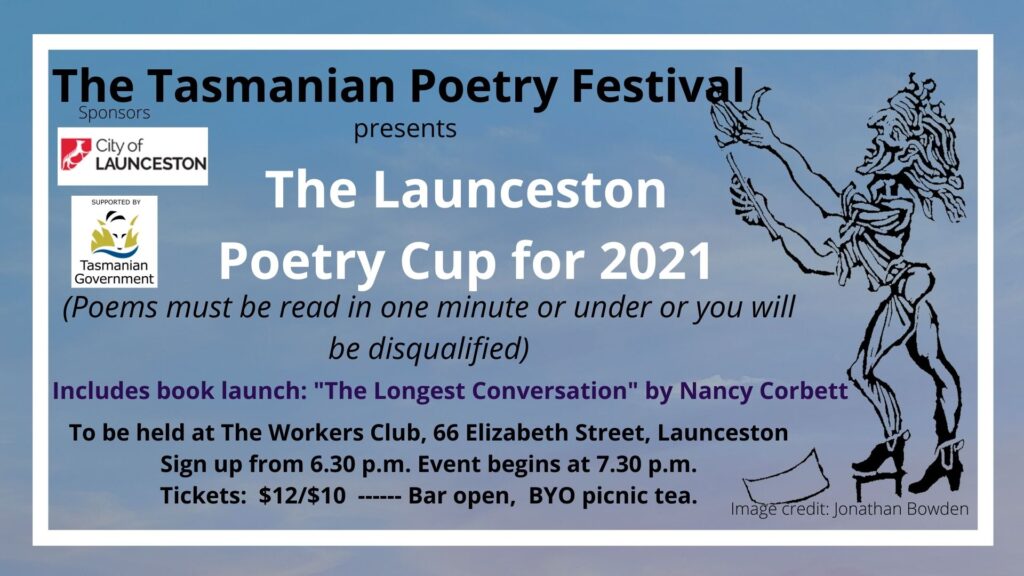 SUNDAY SESSION – LIVE TO AIR AT THE CITY PARK
March 28th (Sunday), 2021, from 11am
Guest poet readings and open mic in the morning, plus the launch of Kristen Lang's book Earth Dwellers, at 11.30 a.m.
From 2 p.m. Live to Air through City Park Radio, with all guest poets reading their work.
Booking link: https://www.trybooking.com/BOVZP